Green embodies everything we do at Virogreen.
Our Green Campaign
---
About Electronic Waste
Electronic waste (e-waste) is refers to discarded electrical and electronic items such as wires, mobile phones, computers, batteries, etc. E-waste contains toxic substances and its improper disposal can lead to serious pollution and health problems. With the rapid changes in technology, shorter product life-cycles, changes in media (tapes, software, MP3) and falling prices, there is a fast-growing surplus of electronic waste around the globe. Hence, there is a need to provide more avenues for individual consumers to recycle their e-waste.
Virogeen's recycling bin is a flagship e-waste recycling programme launched in 2017. As an recycling services provider in electronic products, the programme indicates Virogreen's commitment to environmental sustainability.
Who is involved?
The programme kicked off with a collaborative consumer-driven environmental effort between telecommunications provider M1 and Virogreen Singapore. As environmentally responsible corporate citizens, the partnership have decided to work together to promote and encourage Singapore citizens to dispose their e-waste in a responsible manner. Together with the support of the Ministry of Environment and Water Resources (MEWR) and National Environment Agency (NEA), this programme has provided more opportunities for the public to recycle their e-waste.
In 2018, the programme expanded to include grassroots organisations such as People's Association and the various Community Clubs and Resident's corner to enhance and educate the public about recycling of electronic wastes and its many benefits.
In line with the Singaporean Government's 3P (People-Public-Private) approach to tackle environmental issues, the partners involved have taken various roles to facilittate programme.
And, of course, you! See the list below for the bins near you! Help to protect our environment and start recycling your e-waste!
• A 2017 global report estimates that the world generated 44.7 million tonnes of e-waste in 2016 – equal to 9 great pyramids!
• About 60,000 tonnes of e-waste are generated a year. This is equivalent to the weight of 220 Airbus A380 aeroplanes!
• About 11kg of e-waste – equal in weight to 73 mobile phones – is discarded by each person a year!
• Ensures harmful substances are not released into the environment.
• Grows our green economy and local employment opportunities.
• Reduces strain on Singapore's waste disposal facilities and frees up land for better quality of life for residents.
• Conserves our planet's finite resource and fight climate change!
Recycling Made Easy!
You can recycle almost any electronic product in our bins, and do not have to be an existing customer or even have purchased the product from our partners. However, all recycled items must be able to fit through the bin's 470mm x 150mm slot.
Locate a bin near you!
As an individual or as part of a household, you are encouraged to make use of e-waste recycling programmes voluntarily offered by Virogreen (S) Pte Ltd. Simply drop off your e-waste at any of our recycling points to properly recycle your e-waste.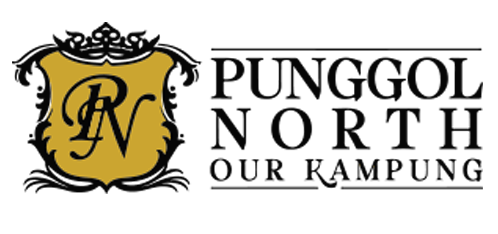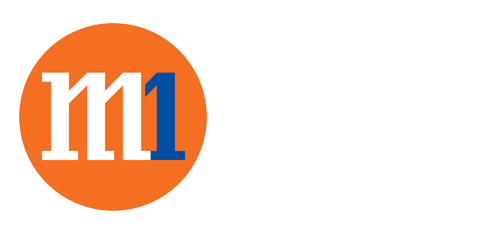 M1 Headquarter – 10 International Business Park, Singapore 609928 (M1 Staff Only)
MiWorld – 9 International Business Park, Singapore 609915 (M1 Staff Only)
M1 Regional Operations Centre – 4 Aljunied Ave 1, Singapore 389978 (M1 Staff Only)
M1 Waterway Point – 83 Punggol Central, #B1-25 East Wing, Singapore 828761
M1 Tampines Mall – 4 Tampines Central 5 #03-01, Singapore 529510
M1 Causeway Point – 1 Woodlands Square #03-01, Singapore 738099
M1 Paragon – 290 Orchard Road #B1-28/29, Singapore 238859
M1 Bugis Junction – 80 Middle Road, #01-81/82 Bugis Junction, Singapore 188966
M1 Shop @ Parkway Parade – 80 Marine Parade Road, #02-24 Parkway Parade, Singapore 449269
M1 Shop @ West Mall – 1 Bukit Batok Central Link, #01-16/17 West Mall, Singapore 658713
M1 Shop @ Nex – 23 Serangoon Central, #B1 – 56, Singapore 556083
M1 Shop @ Clementi Mall – 3155 Commonwealth Ave West #04-44/45, Singapore 129588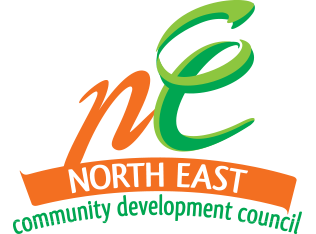 Punggol Vista Community Centre – Blk 602 Punggol Central #01-02 Singapore 820602
Punggol Coral Tree RC – Blk 301C Punggol Central #01-745 Singapore 823301
Punggol Damai RC – Blk 613A Punggol Drive #01-857 Singapore 821613
Punggol Parc Terraces RC – Blk 312B Sumang Link #01-171 Singapore 822312
Punggol Sunrise RC – Blk 677A Punggol Drive #01-800 Singapore 821677
Punggol Link RC – Blk 684A Edgedale Plains #01-617 Singapore 824684
Punggol West CC – 259C Punggol Field #01-47 Singapore 823259
Punggol Gems RC – 273D Punggol Place #01-888 Singapore 824273
Punggol Jewel RC – 260A Punggol Way #01-303 Singapore 821260
Punggol Sapphires RC – 268D Punggol Field #01-173 Singapore 824268
Punggol Clover RC – 204A Punggol Field #01-288 Singapore 821204
Punggol Seas RC – 211C Punggol Walk #01-645 Singapore 823211
Cascadia RC 316A – Punggol Way #01-733 Singapore 821316
Waterway RC – 308A Punggol Walk #01-288 Singapore 821308
Rivervale Vista RC – Blk 188B Rivervale Drive # 01-1076 Singapore 542188
Rivervale Spring RC – Blk 135 Rivervale Street #01-730 Singapore 540135  
Rivervale Arc RC – Blk 180C Rivervale Crescent #01-367 Singapore 543180
Rivervale Court RC – Blk 110 Rivervale Walk Singapore 540110
Tampines Changkat Zone 5 Nature Centre – Blk 124 Tampines St 11 Singapore 521124
Tampines Changkat Zone 4 RC – Blk 285 Tampines St 22 Singapore 520285
Tampines Changkat Zone 8 RC – Blk 364 Tampines St 34 Singapore 520364
Tampines Changkat CC – 13 Tampines St 11 Singapore 529453
Tampines North Zone 3 RC – Blk 430 Tampines Street 41 Singapore 520430
Tampines North Zone 5 RC – Blk 480 Tampines Street 44 Singapore 520480
Tampines North Zone 6 RC – Blk 494B Tampines Avenue 9 Singapore 520494
Eunos Heights Zone 3 RC – Blk 627 Bedok Reservoir Road #01-1608 Singapore 470627
Pasir Ris East CC – 1 Pasir Ris Drive 4 Singapore 519457
Paya Lebar Zone 5 RC – Blk 116 Hougang Ave 1 #01-1206 Singapore 530116
Bedok Reservoir-Punggol Park Crescent RC – Blk 475D Upper Serangoon Crescent #01-573 Singapore 537475
Hougang CC – Blk 35 Hougang Avenue 3 Singapore 538840
Tampines Ville RC – Blk 842 Tampines Street 82 #01-141 Singapore 520842
Tampines Spring RC – Blk 880 Tampines Ave 8 #01-278 Singapore 520880
Tampines Greenvale RC – Blk 736 Tampines St 72 #01-28 Singapore 520736
Tampines Courtview RC – Blk 730 Tampines St 71 #01-61 Singapore 520730
Compassvale Villa RC – Blk 260C Compassvale Lane #01-99 Singapore 543206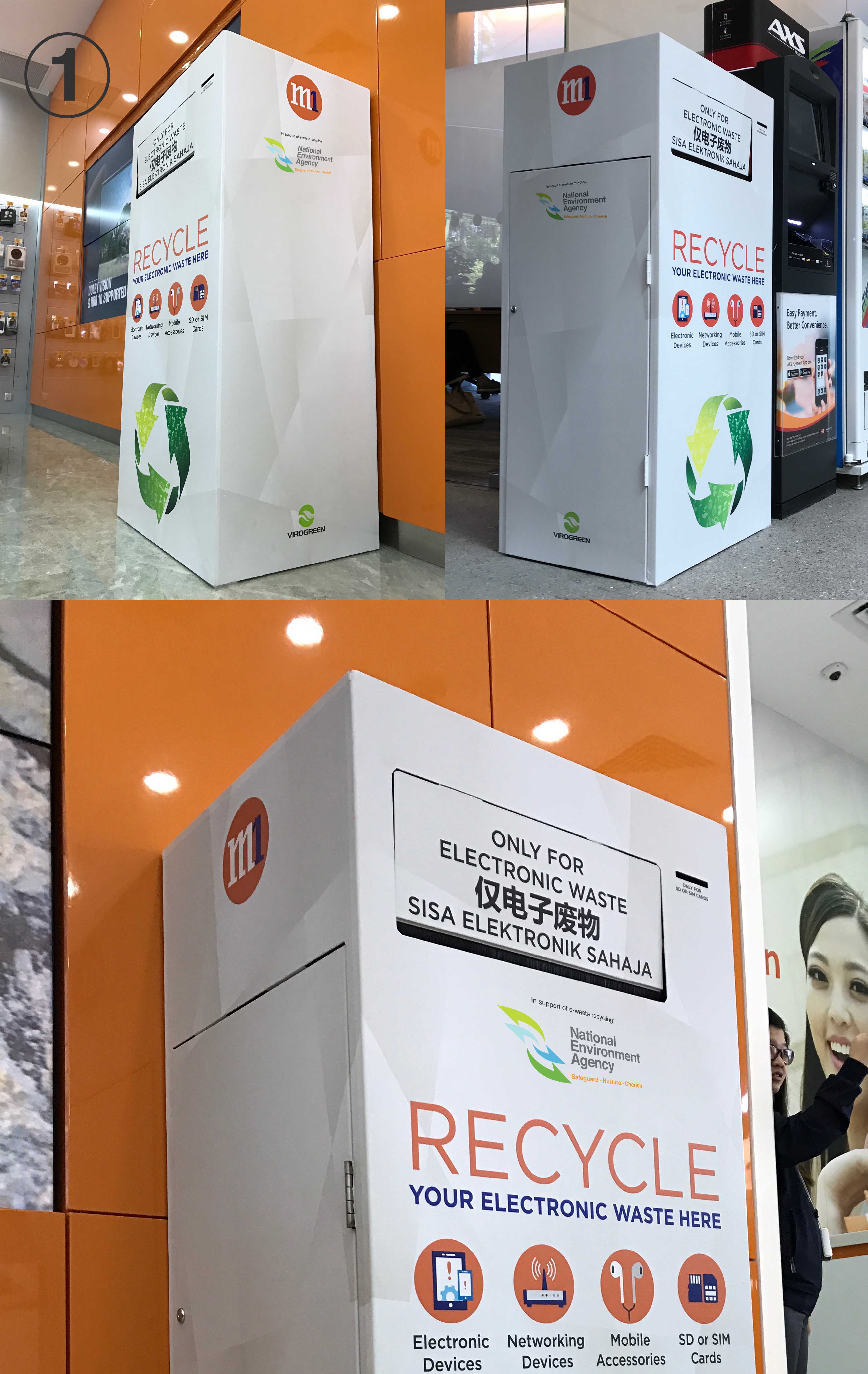 M1 E-waste drop-off Programme
The M1 Drop-off Point Programme is a joint effort between M1 Limited & Virogreen (Singapore) Pte Ltd to promote responsible disposal of e-waste.
What to Recycle: Most electrical and electronic items, that fit through the deposit slot, including laptops, mobile phones, chargers, cables, etc. SIM cards and memory cards can be inserted into a specially designed slot found on the bin
Punggol North Eco-Drive
Virogreen (Singapore) Pte Ltd, in conjunction with Punggol 21 Community Club Management Committee (CCMC), has launched an e-waste recycling programme for Punggol North residents.
What to Recycle: Most electronic or electrical items, that fit through the deposit slot, including PCs, laptops, mobile phones and accessories, radios, electric irons, etc.
Interested to adopt a bin?
With the support from several corporate companies & private stakeholders
whom embarked as venue providers / project partners, we have developed an
Island-wide Drop-off Centre Program within designated locations of our various
venue partners, to evaluate the economic viability of collecting, transporting and
recycling of E-waste from the Community and the End-of- Life (also known as
EOL) products.