More than 10,000 residents and students in Punggol North came together to celebrate Singapore's racial and religious harmony in a street parade yesterday, on the eve of the 50th anniversary of the 1964 race riots. Into its 10th year, the colourful parade featured students from eight neighbourhood schools for the first time — including Greendale Primary and Secondary schools, Punggol Secondary and North Vista Secondary. The People's Association also introduced, for the first time, a catwalk to display multi-ethnic wedding costumes and give residents a glimpse into the wedding traditions and cultures of various ethnic groups. The parade was a grassroots initiative aimed at promoting racial bonding, inter-faith understanding and religious harmony among residents.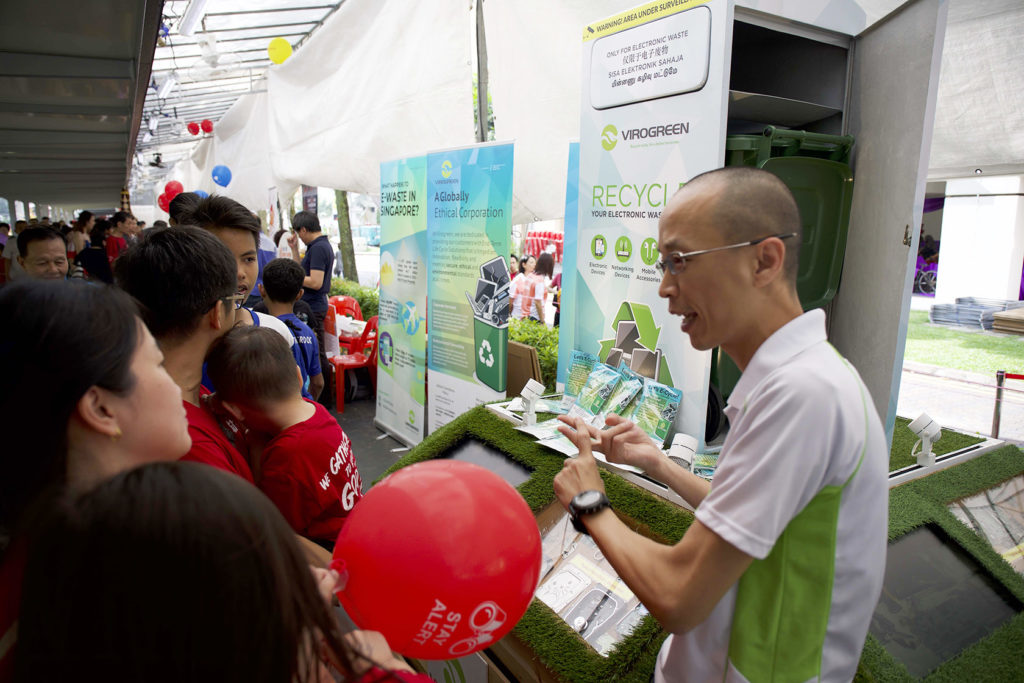 Virogreen Singapore was invited to take part in the festivities by showcasing our E-waste recycling efforts in Punggol Town. Visitors to the booth learnt about our public collection programmes as well as upcoming locations as we expand the programme to reach more citizens.
Deputy Prime Minister Teo Chee Hean and Minister for Prime Minister's Office Ng Chee Meng visited Virogreen's E-waste booth showcase on 15 July 2018. During the visit, student volunteers from Northbrooks Secondary school showcased our public E-waste programmes.
Deputy Prime Minister Teo Chee Hean, visited Punggol North's Racial & Religious Harmony Street Parade on 15th July 2018 where Virogreen displayed our public outreach efforts on E-waste recycling. Mr Teo was accompanied by Minister in the Prime Minister's Office, Ng Chee Meng. Visitors to the booth were briefed on Virogreen's public E-waste bins initiative and how these could be leveraged to improve e-waste recycling in Singapore. With support from student volunteers from Northbrooks Secondary school, they explained variousl processes of e-waste recycling and the many different ways of extracting resources from everyday consumer electronics.
The event was made possible with the support of Punggol North Constituency, Inter-Racial and Religious Confidence Circles and Pasir ris – Punggol CCCs.
About Virogreen Pte Ltd
Virogreen (www.virogreen.net) is the global leader in electronics recycling and secured data handling. We have experience in comprehensive IT asset disposition and Secured Data Destruction services either directly or through acquired businesses. Virogreen provides disposition services for all types of retired electronic equipment to local, national and global customers in every business sector including data centers, healthcare, financial service and technical organizations.
Virogreen has the global reach, expertise, and infrastructure necessary to ensure our customers that all electronic devices are processed in a secure and environmentally responsible manner.
Virogreen international footprint of operations across 12 countries enables us to offer a global scope of services on a myriad of local fronts.